Citygarden
Citygarden
https://blisscollaborative.com/wp-content/themes/corpus/images/empty/thumbnail.jpg
150
150
Bliss Collaborative
https://blisscollaborative.com/wp-content/themes/corpus/images/empty/thumbnail.jpg
Citygarden
Gateway Foundation

Citygarden, a project of the City of Saint Louis funded by the Gateway Foundation, has carved out three acres in the heart of Downtown and transformed them into an exhilarating urban oasis featuring modern and contemporary sculptures, lush landscape, reflecting pools, a café and a playful spray plaza. You won't find walls or fences, admissions fees or Do Not Touch signs, because at Citygarden, you are always free: free to explore, free to play, free to be inspired.
Bliss Collaborative started working with the Gateway Foundation over 20 years ago, far before Citygarden came to life. In preparation for the park's grand opening in 2009, the foundation engaged our team to design Citygarden's logo, park signage, and education program materials, including a website, self-guided educational tours, a mobile app, and audio tours.
Citygarden's identity captures the nuances where life recedes into art, with timeless typography that integrates with the 20th-century modern art living in the park. This logo quietly leads the design vocabulary for other branded pieces, especially the education program materials.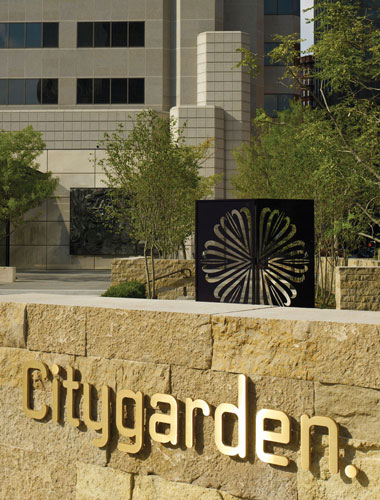 We designed park signs to offer valuable written communication to visitors. The sign program utilizes warm bronze and vibrant aluminum to portray nature in a sophisticated yet easygoing manner. From informational boards to directional signs, visitors are encouraged to learn, discover and play without rules.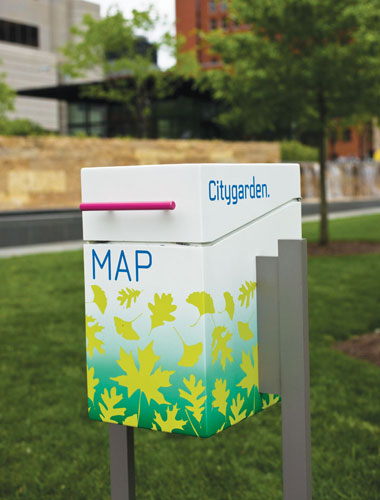 The Citygarden Education Program (website, self-guided educational tours, mobile app, and audio tours) presents an approachable, everyday appeal to an otherwise intellectual medium. The brochure's exterior highlights nuances of the garden's design while inside, succinct descriptions, whimsical line illustrations, and a colorful map reveal the stories behind each sculpture.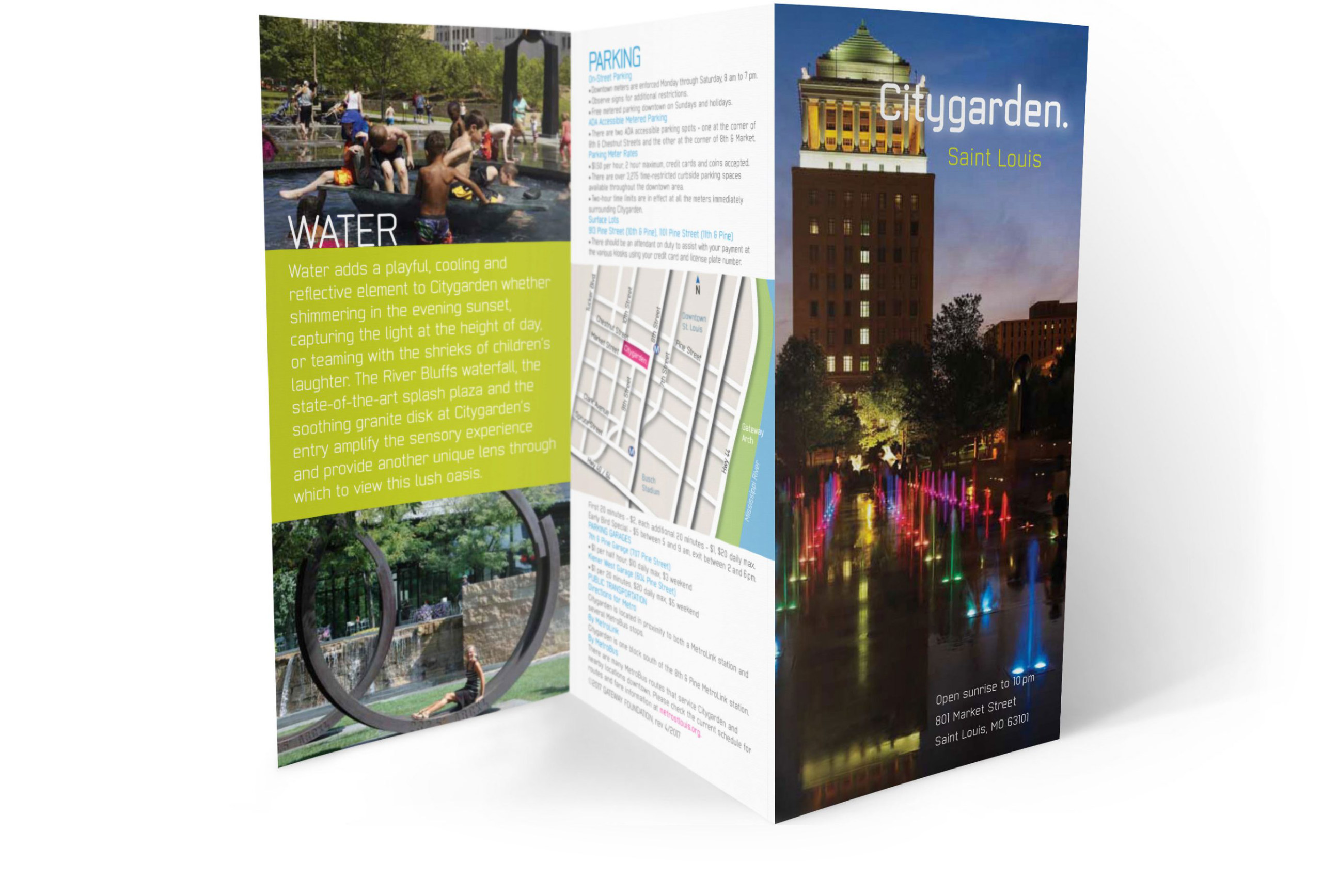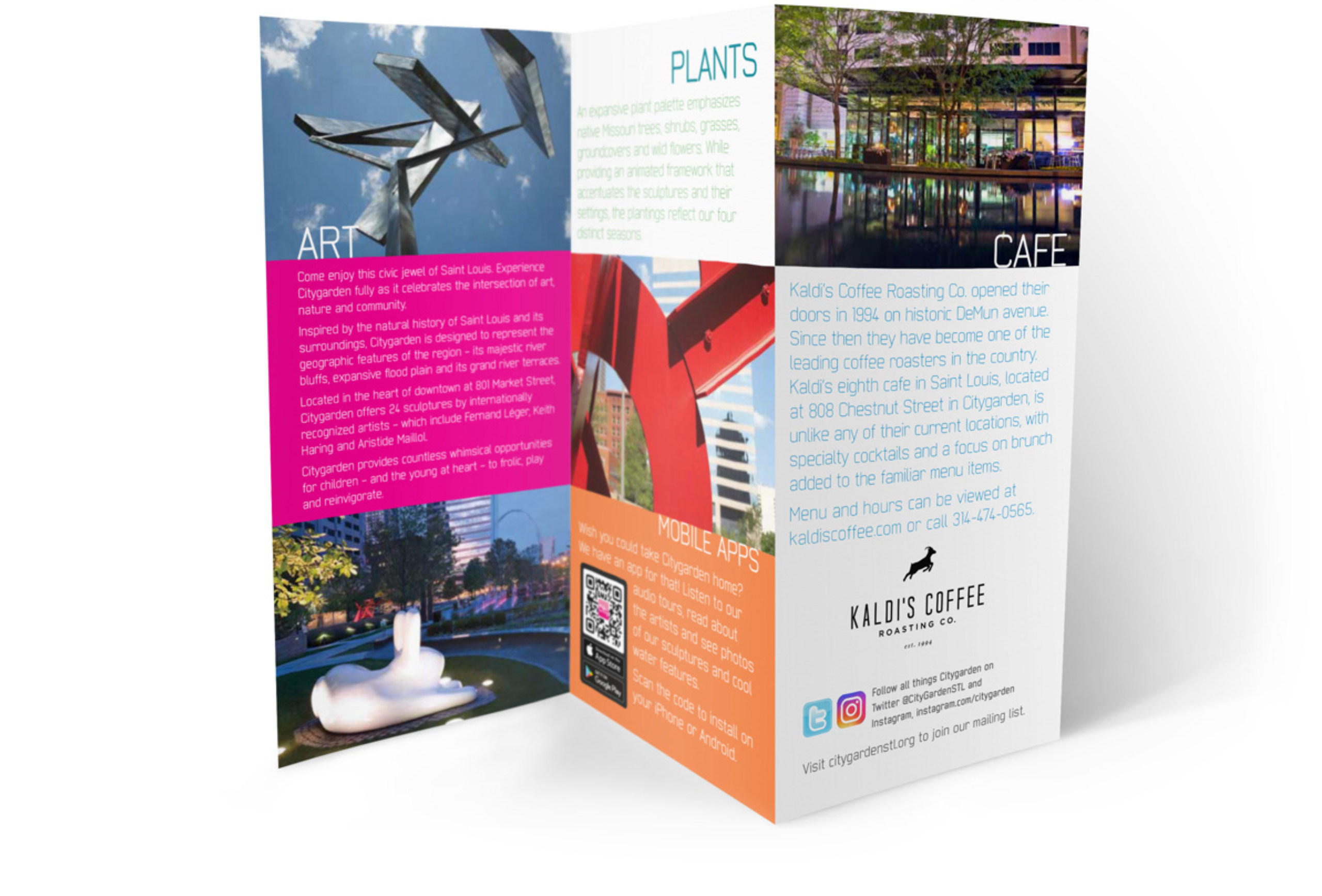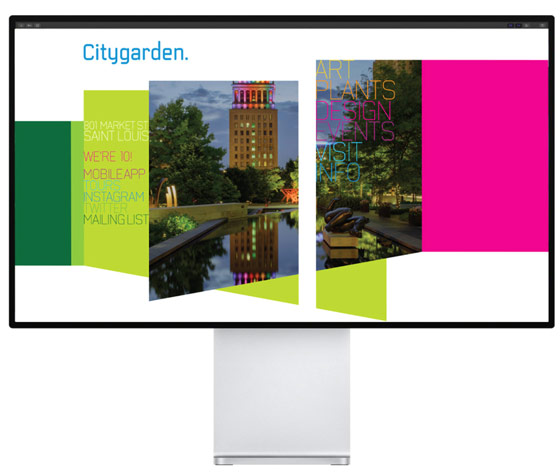 Citygarden's website brings all the personality of the park online. Bright, vibrant colors, geometric shapes and modern typography combine to give web visitors a whimsical, informational experience. The free native iPhone and Android app helps Citygarden visitors maximize their experience with audio tours, information on the art and artists, horticulture, water fun, directions, parking and food. Exploring with the GPS enabled assists in planning the trip from home to downtown St. Louis.

In celebration of Citygarden's 10th Anniversary, Bliss Collaborative created icons of three new sculptures, refreshed design and home page navigation on citygardenstl.org, and generated educational tours for teachers and parents. St. Louis Magazine included the new icons and map in its article appearing in the A-List July 2019 issue. For hashtag #citygarden, these updates add value by building a library of illustrations, maps and photography that is classic, timeless and still used 10 years after Citygarden's debut.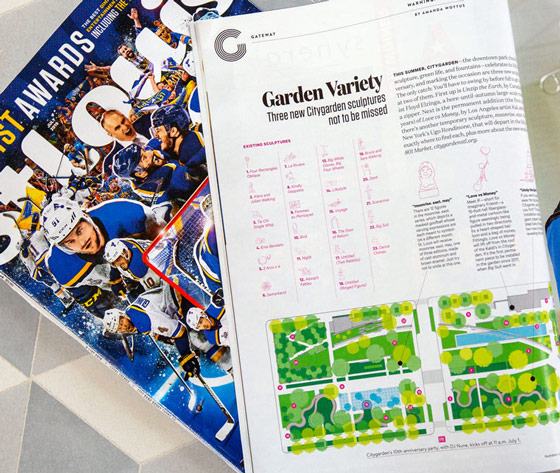 Results
Citygarden won one of the nation's most prestigious awards in urban planning, the 2011 Urban Land Institute (ULI) Amanda Burden Urban Open Space Award. It continues to attract out-of-towners, downtown residents, families and art lovers from across the region to celebrate the intersection of nature, art, and civic life.
48audio tours by recognized St. Louis narrators
721lifetime
app downloads
1,000,000
visitors annually
22years of
client service