Fire & Ice Cream Truck
Fire & Ice Cream Truck
https://blisscollaborative.com/wp-content/themes/corpus/images/empty/thumbnail.jpg
150
150
Bliss Collaborative
https://blisscollaborative.com/wp-content/themes/corpus/images/empty/thumbnail.jpg
Fire & Ice Cream Truck
Sweet Heat LLC

It's safe to say the Fire & Ice Cream Truck blazed the trail when it started its engines in 2005. As St. Louis' very first food truck, it became notorious for serving amazing artisan ice cream—and for sticking out like a sore thumb. Forget the standard food trailer; you simply can't pass up this tricked-out 1946 Ford fire truck slingin' cups, cones and sandwiches from its rear window.
But how does a food truck attract as many curious foodies on the internet as it does on the street?
This is where our work began. The truck's logo, a flaming ice cream cone hand-painted on its passenger side door, needed a digital counterpart.
It was important that this new logo differentiated The Fire & Ice Cream Truck from its competitors. We needed to emphasize the truck's unique vintage-yet-modern identity. Inspiration came from rusted bolts, polished valves, Hot Rod references, irreverent art, and oxymoronic contradictions—sweet heat, cool passion, freezer burns.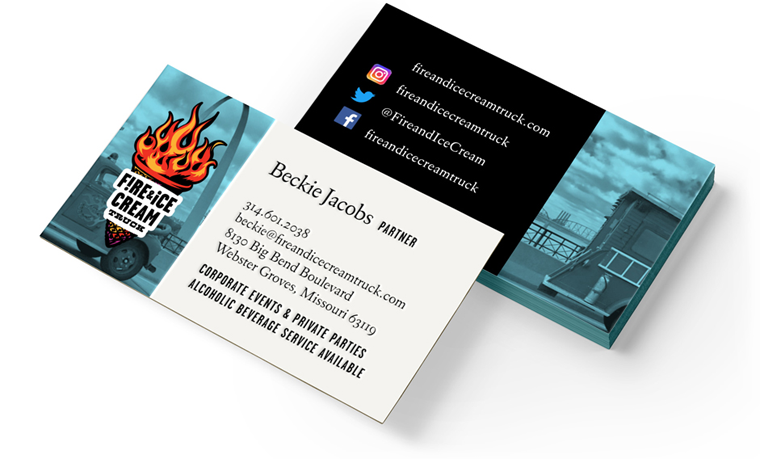 After crafting a logo, we reined in personality by way of a styled photo shoot. Assorted props balanced its barefaced & brazen attitude with its steadfast commitment to sourcing pure, all-natural ingredients. The final images featured messy, deconstructed ice cream novelties set on a backdrop of clean, raw materials. Photography from the shoot is incorporated in many marketing efforts, from social media to direct mail advertising.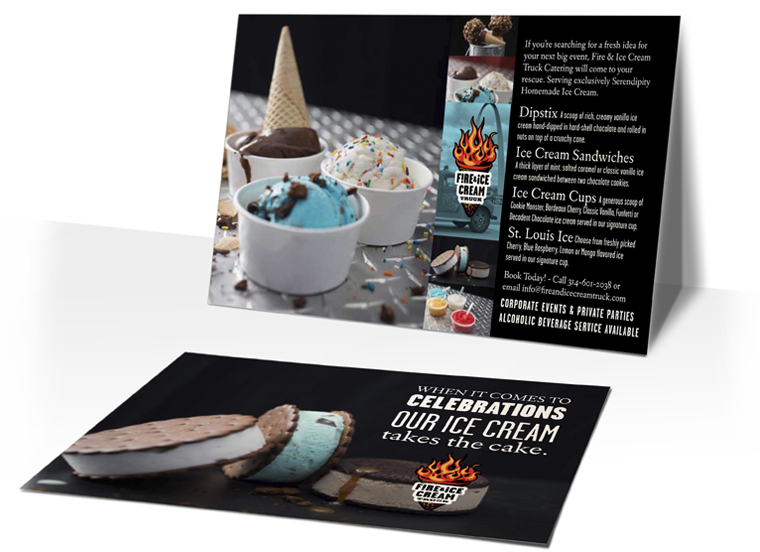 Social media and print graphics position The Fire & Ice Cream Truck in front of the blue skyline of downtown St. Louis—cool & hot against clean black & white lines. We highlighted each novelty with a photo and flamboyant text in specially-formatted graphics for Instagram and Facebook.
Results
What is the takeaway? After nearly 15 years of dedicated service, the Fire & Ice Cream Truck is still the hottest ice cream truck on wheels!